Legend:
S – Save Points
W – Water Stills
F – Fire and Smokers (Fs)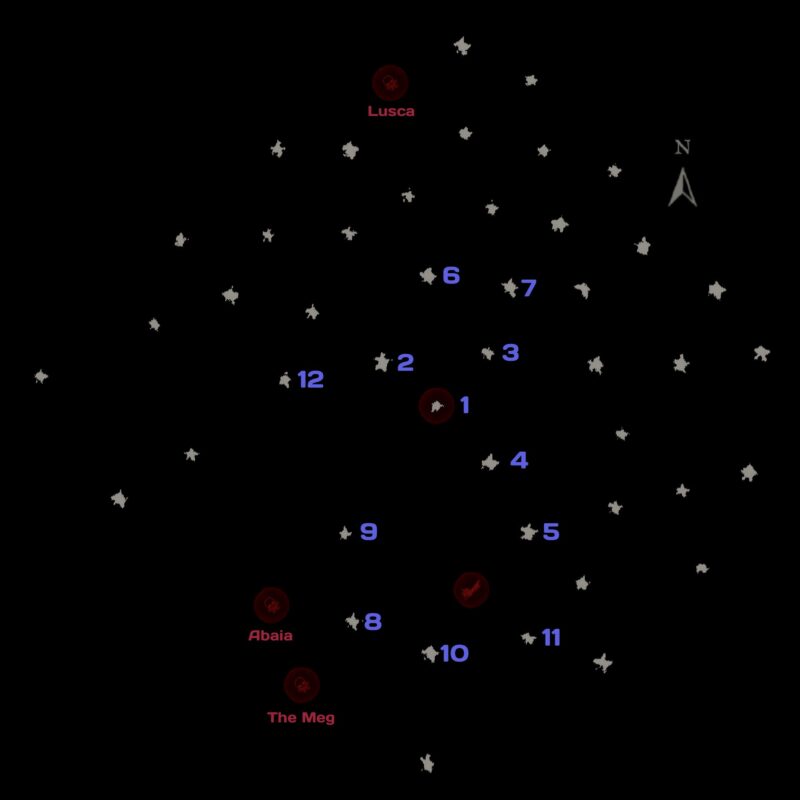 #1 Jackpot Island (SFW Plank Machine)
Our original island. Features a water maker, a little shack and a fire with save point. Also plenty of engine parts and a Plank Station.
#2 The Plantation (SWF Fuel)
I've turned this island into a farming plot. Three natural yukka trees and two fruit trees will get us started. Contains a fuel still and three water makers.
Island#3
Tires on a boat
Island#4
Plenty of palm trees beckoning to be turned into logs and planks.
Island#5
Palm trees. All wrecks explored (there were only two small ones).
Island#6 – (S)
Two wrecks, nothing special
Island#7
Multiple wrecks, most of hem plundered.
Island#8 Boss Island (SFW)
Small island with a shelter and a Hobo Stove. Close to The Meg in the south west and Abaia to the west. I've added a water still too.
Island#9
It's small, has barrels.
Island#10 (SW)
Small island, two wrecks. Tons of sticks to be picked up. This is where I dragged my capsized raft to and rebuilt it, so there's plenty of containers here. Also a save point and water still. Oh, and probably some container shelves and goodies buried beneath the sand.
Island #11
Some tires in a wreck underwater.
Island #12
I visited this and found some machine parts and good things, including a shack with a skeleton. I wasn't done exploring when I died in a wreck, so will have to do this again.