If you want to say THANKS for anything I've made, drop something in my proverbial Tip Jar. This will keep me going when I'm editing a video, sifting through the umpteenth PHP file at 3am, answering a question about 3D software at the same time, or when I'm doing my next live stream.
There are several ways to donate money, pick the one that works best for you. Want to support me my work without cash? I have a separate lists of Affiliate Links here 😀
Monthly Donations
You can give ongoing donations via my Patreon crowdfunding campaign. Supporting me this way means that I can turn this whole YouTube/Streaming/Websites venture into a full-time job. It encourages me to keep going, invest into further software and hardware, and it'll allow me to continue making the world a better place. In return you'll get exciting goodies such as:
Discord Access to my private server
your name or brand in the credits of upcoming Videos and live streams
early ad-free access to upcoming videos
personalised videos with answers to your questions
free merch, like mugs and copies of my books on higher tiers
access to digital goodies, like video assets, 3D products and scene files
Donations start from as little as $1 per month, or prepay for a whole year in advance. Give as much as you want for how long as you want – every cent is very much appreciated 🙏

One-off Donations
You can buy me a Ko-Fi to feed by caffeine habit. These are one-off donations with similar benefits. Buy as many as you like, or donate a custom amount. I have downloadable goodies in my Ko-fi shop too, like animations, icons, overlays and small game projects. Recurring donations are welcome, and every cup is greatly appreciated ☕️
PayPal Donations
I also accept one-off and ongoing donations directly via PayPal. Follow the link below and give any amount you want – all major Credit Cards are accepted, and you don't need a PayPal account to proceed. ?
During Live Events
When I'm live on air, various events trigger the "walking zombie" animation. These include subscriber and follower alerts and most donation alerts. The latter will include your handle and the amount you've donated, and when I spot this in time, I will usually give you a shout out to say thank you 🙂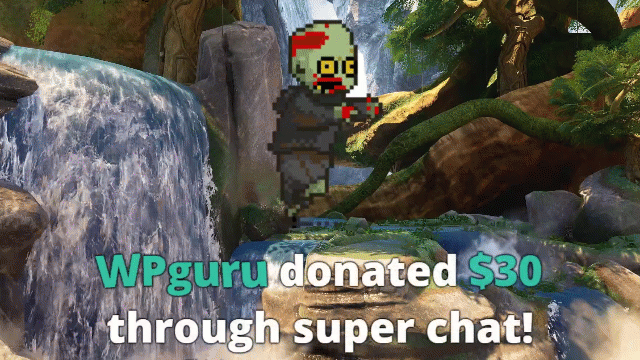 The following donation events will trigger the animation:
Bought with Your Donations
I re-invest what I get into making better content. Since I started my crowdfunding campaign in March 2018, I was able to buy the following items/services through a combination of your donations and ad revenue from YouTube and my websites:
Adobe Creative Cloud Plan
2x GoPro HERO 5 cameras
1x GoPro HERO 8 camera
various GoPro accessories
2x tripods
microphone stands
Elgato Stream Deck (mini vision mixer)
Elgato HD60 Pro (HDMI capture card)
several Samsung 1TB EVO SSD (for faster editing)
excap216 HDMI capture device
27″ Acer Monitor
a second HP Z600 Workstation
a HP Z800 Workstation (currently my main rig)
an RTX 2080 Graphics card
countless 3D products
faster internet connection (25Mbps up for better streams)
Logitech Craft Keyboard (speaks to both systems on my desk)
Logitech MX Master 2S Mouse (dito)
and so much more
I use your donations in part to support various inspiring creators on Patreon (including the OBS Project), and I donate monthly to the Blender Foundation.
THANK YOU
for your generous support