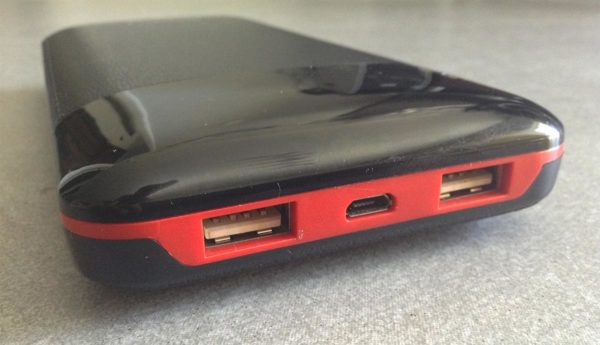 I can't get enough of the RUIPU series of power banks. You can never have enough charged-up external batteries around, especially during hurricane season. Hence I've decided to invest into another model by the same company, namely the RUIPU Model 121 as pictured above.
Like my other RUIPU power banks, the 121 is a 24,000 mAh large and heavy external battery, with a micro USB input for charging and two USB outputs to power other devices. It's about the size of an iPhone Plus / Max or equivalent smart phone with a 5″ screen, just over 1cm or half an inch in thickness. It weighs about one pound, so it's on par with the other RUIPU models I own (such as the solar Q90 or the white quad-output Q80), maybe even slightly slimmer.
The noticeable and interesting difference with this unit is that it has a large blue LED panel at the top instead of the small blue dots, which lets us take a more accurate look at the remaining amount of power in the bank. That's a very nice touch.