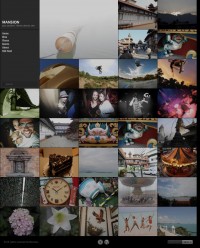 I've just come across this wonderful theme and wanted to share it with you immediately:
MANSION by Chandra Maharzan is a Photoblogging Extravaganza. It automatically turns your site into a dimmed-out photo wall. Each thumbnail then links to the post it comes from – you don't lift a finger to make it look super swish. And best of all: it's FREE!
This theme is suited for people who post mainly pictures instead of words – which isn't to say that you can write essays with it too. Have a look at the demo site and see for yourself.
MANSION features categories, pages and a search box in the tiny nav-box in the top left, no header or ad space on the front page. Just your pictures – that's all. Single posts and pages feature a widgetized sidebar on the right though which means you have best of both worlds to play with.
For the front page to look good, you need to set the correct thumbnail size in SETTINGS – MEDIA to 200×150 pixels. Other sizes will work too but may show some black space in between your pictures.
If you would like to amend the size of your current thumbnails, WordPress doesn't have an option for that… but a handy plugin called AJAX Thumbnail Rebuild has what you're looking for. Download the plugin from the WordPress Repository, have a play and enjoy.
You can get Mansion free from Graph Paper Press – just sign up for a free account and get access straight away.