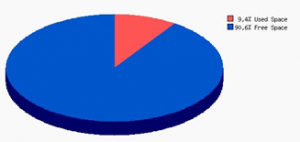 I've just released a small update for my Disk Space Pie Chart plugin for WordPress.
The new version addresses the following minor issues:
Fixed Division by Zero bug (Thanks, Jure!)
Tweaked some colours to better blend with WordPress Core
Added MySQL Server Version
The update was inspired by Jure di Mephit who very kindly gave me a tip on how to fix a bug in July last year… I didn't find the time to write that update until now. Hey, better late than never. Thanks again, Jure 😉
Find more info about the plugin here, or download it for free from the WordPress Repository.