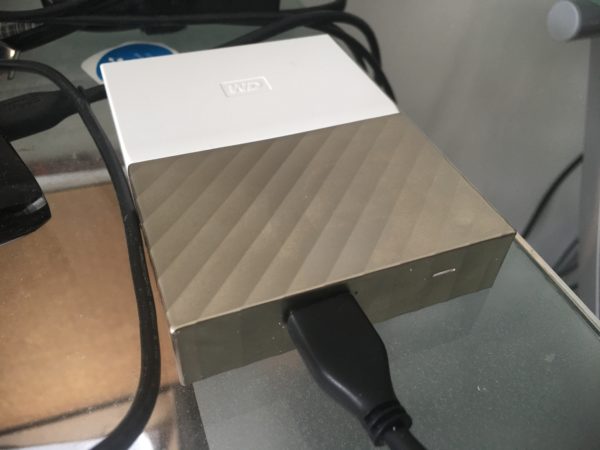 After several months of use, here's what I found out about the WD MyPassport Ultra external USB 3 hard drive. Mine is the White/Gold edition with a whopping 4TB of storage.
In the box was a matching white USB 3 to SATA cable, a leaflet with extremely small writing on it, and the drive itself contained some software to do backups and encryption – all of which is available from the Western Digital website.
I bought this drive in May 2018 from Amazon to exchange large amounts of data between my Mac and my Windows system. Therefore, I chose to format the drive in exFAT so that both operating systems can read and write to it without issues, and to accommodate long video files in excess of 2GB.
For the most part it works fine and behaves just like any of my many ordinary Western Digital and Seagate USB 3 drives. Read and write speed are adequate for an external hard drive (compared to an SSD), and from copying data back and froth, I even manage to edit directly from it. So far so good.
Issues with macOS
Sometimes however, when I insert the drive to my already running Mac, it's not mounted automatically. It's not even recognised. Trying to start Disk Utility results in Disk Utility not even opening. This tells me something isn't right here. Only a Mac restart will usually work to bring this drive back to life.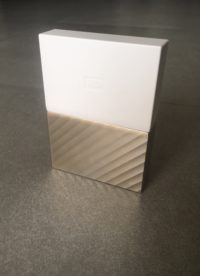 Shortly after that, I've noticed something even weirder when the drive is attached to my running Mac: sometimes it just doesn't shut down anymore. It appears to, the screen goes dark, but the backlight is still on. For hours. My Mac also developed an issue when it's powering on or restarting (if it can restart that is): although the unit comes alive, the attached Thunderbolt display remains dead. Even a second HDMI monitor does not spin into action.
To clarify: I have a Mac Mini 2012, and I use the drive attached to one of the USB ports (not through the Thunderbolt display). I have access to a second monitor, and when the Thunderbolt display didn't want to spring into action anymore, I attached a HDMI monitor to see if there's a hardware issue. Even with both monitors attached, neither of them would switch on.
Then I figured it out: It was NOT my Mac…  the issue is related to the attached WD MyPassport Ultra drive! When I eject it, my Mac shuts down properly. When I unplug it, my Mac starts up properly too. That's extremely weird, and I've never had any of this issues with previous drives before.
On my Windows system, I've not had these problems – even though I must say, since I've started using this drive, the WiFi keeps having issues… I can't believe this is related to the WD drive, just saying… stranger things have happened.
Here's what it looks like in Disk Utility:
Verdict
I must say that I'm a little disappointed in what the drive does to my Mac. I've had weird behaviour with Seagate drives many years ago, but I've always have good experiences with Western Digital drives over the last 20 years.
I'm not sure if this is a duff drive, or if it's related to exFAT (I doubt it) or if it's my operating system (macOS Sierra 10.12.6, again I doubt it). I can tell you that as of October 2018, the firmware on the drive is up to date (not sure which version, but the online utility was confident it's the latest one).
For everyday use it's fine, but if you're looking for a more or less permanently attached drive to increase your storage space, I recommend to look elsewhere.
In WD's defence, this was at the time the cheaper 4TB drive on the market… perhaps it's true what they say: you get what you pay for.