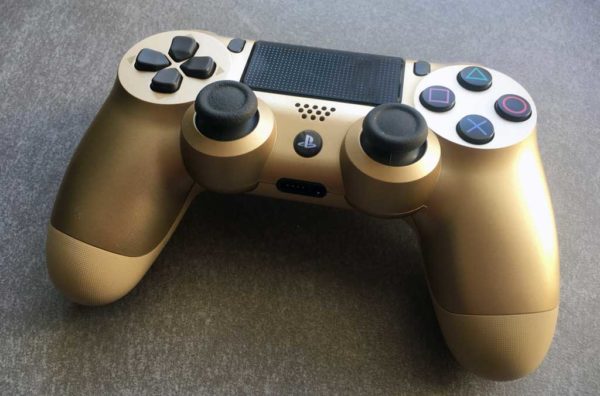 Even after so many years of use, I still love my Playstation 3. I can't imagine a life without it. As such, I get nervous thinking about the fact that native PS3 Controllers are no longer in production. What happens when my ever so slightly worn out two controllers give up? How will I play my favourite platform games?
Thankfully, Sony made it possible since software version 4.6 to use the newer Playstation 4 controllers on our Playstation 3 systems. Those are available in great numbers and colours, and from what I hear, they even have the same batteries inside as the PS3 controllers did.
Here's how to pair a PS4 controller on your PS3 console:
switch you the PS3 console using a regular PS3 controller (attached or wireless, doesn't matter)
head over to Settings – Accessory Settings
select Manage Bluetooth Devices
choose Register New Device (the button at the bottom)
on your PS4 controller, press and hold the PS and Share buttons together for a couple of seconds, until the light starts to flash
select it from the list when your PS3 console finds the controller
And that's it! Now you can use your PS4 controller with your PS3 console. How cool is that? Now you can use a brand new controller on your old console, or play that multiplayer game you've never had a second controller for.
What works and what doesn't
There's a small caveat to this setup though: some things don't work quite as expected. Thankfully that's not during gameplay, at least I haven't noticed anything detrimental yet on native PS3 games. Nevertheless, here's a quick list of idiosyncrasies I've spotted:
you can turn the PS3 console on using the PS button on the PS4 controller (great!)
during gameplay, you cannot use the PS button to bring up the context menu and either quit the game, or turn off the console (not so great)
once paired with the PS3 console, the PS4 controller will no longer be paired to your PS4 console
even though no longer paired, the PS4 controller still manages to switch on BOTH the PS3 and the PS4 (that's terrible)
This setup does not work for native PS2 games, like those you've bought before they were remastered, such as the GTA series. That's because in emulation mode, the PS3 restarts and the controller needs to be re-connected, ignoring generic Bluetooth devices (such as the PS4 controller).
Reassigning Controllers
Right after pairing your PS4 controller for the first time, it'll be dedicated as the next available controller slot. Since you need a regular controller to set it up, it's likely to be Controller #2. That may not work for some games.
To adjust this, head over to the Settings – Accessory Settings – Reassign Controllers. You can pick which controller number you'd like the current controller to be. Choose 1 for most games.
Hope this helps!