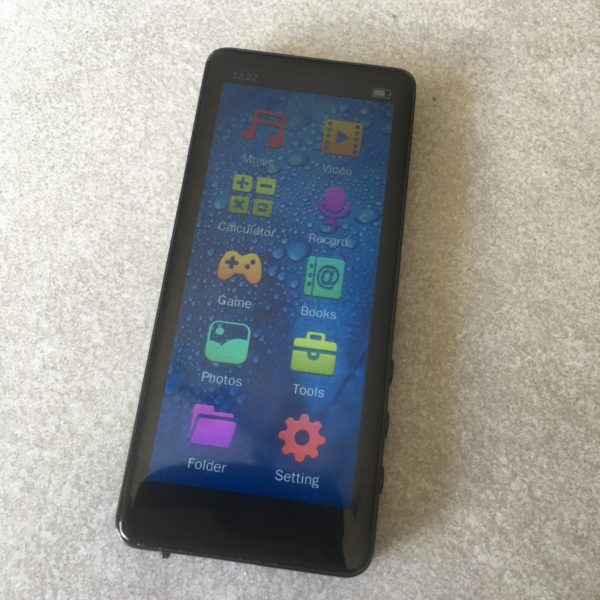 It's hard to believe, but there's a regular no-frills non-WiFI MP3 player available in this day and age! Can you believe it? When I read about this I wanted to take a closer look at the MAHDI M9 Plus MP3 player gadget. Here are my thoughts on this thing.
It's very small and lightweight, about the size of an iPod Nano, which has been discontinued since 2017. If you've been looking for a replacement for yours, or always wanted one, then this device might be a good fit for you.
When it comes to smart devices, the M9 Plus is a very simple (yet complex) one. It almost feels out of place in 2019, in which even the simplest household gadgets connect to your WiFi network. The M9 Plus doesn't do that, nor does it want to. It wants to play MP3 files for you, play a video file, maybe show you a photo, let you listen to the radio, or let you play a simple game. It's cute. It's small. It has a full-size touch screen. It even comes with a flick-switch as an the on/off button.
Most importantly, it has a Micro SD card slot that lets you play that huge library of music files you've ripped a few years ago, the one you've not listened to for years. While no WiFi is present, the device has a regular 3.5mm headphone jack (compatible with TRS and TRRS headsets) and a Bluetooth connection for wireless headphones. You can also attach a micro USB cable to charge the device and to transfer files to and from.
Let's take a look at what else we can do with it.
After you operate that satisfying flick-switch to power on the gadget, you're greeted with something akin to the iOS Springboard, featuring 10 icons to start the music and video player, a voice recorder, calculator, game section, book section, photos and settings. Most of these access the file structure on the device, from where you can then look at photos, listen to music or read a PDF (as much as the small screen allows it).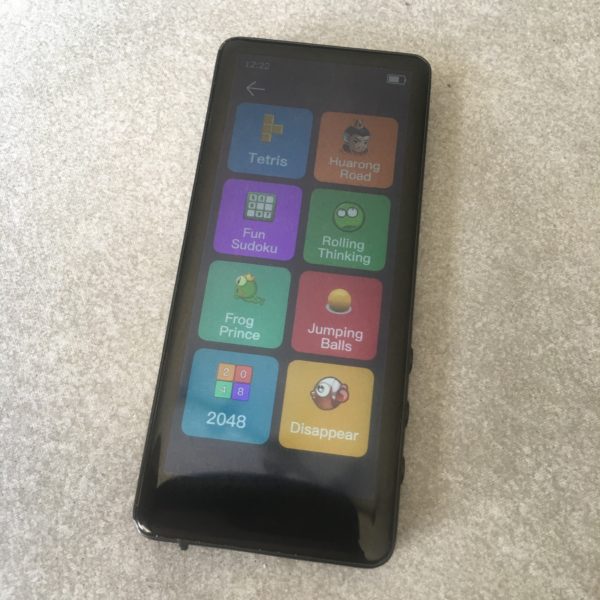 The Settings section is very simple, showing you the current firmware version, volume, brightness and auto-off settings. It also lets you select if you'd like to access the built-in 8GB of storage, or the external SD card. There's an option to format the card or internal storage here too, as well as date and time settings.
More settings can be found under the Tools section from the main screen, from where we can enable Bluetooth and connect external accessories. Strangely, the Tools section also contains the radio app, a calendar and a stopwatch, and a cute music generator/sequencer called "Decompression Artefact". It's like a beat box of sorts, with record and playback function. Not sure who came up with the name though.
The Radio is a nice touch, something that's oft forgotten in todays streaming music age. Although hopelessly overloaded, the FM radio spectrum in the western world still exists, and PBS are still broadcasting. Note that for adequate reception, regular (wired) headphones must be plugged in, as they double up as an antenna. Without those, you'll receive only static. Tuning takes about two minutes, during which time the device scans the whole spectrum and makes stations available from a handy menu.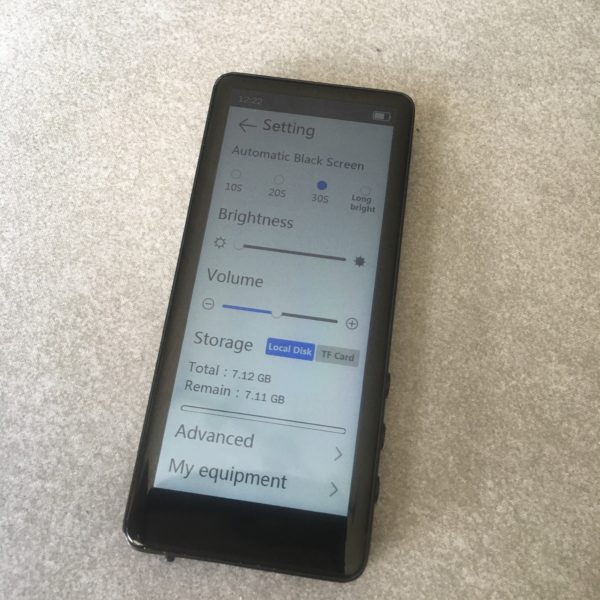 The Voice Recorder is an interesting one. It's extremely simple to use: start it, then press the huge microphone circle button that appears and you're recording. Then either pause and continue the recording, or stop and save the file. It's that easy. There's also a file browser in this section that lets you listen to previously recorded files. Only the internal microphone can be used for recording (no external mics can be connected as far as I know), but the quality is adequate for note taking. When playing back a file, you can adjust the speed up and down without changing the pitch, which is a lovely touch for your transcription needs.
Then there's the Games section! Perhaps not worthy of a Twitch stream, but you have 8 simple pastime to choose from, including Tetris and Sudoku. Again they're not why you'd buy this device, but it's a cute touch that keeps you entertained for a few hours when you feel like it.
To transfer files to this device, you can either use an SD card reader with your favourite operating system, or you can attach the device itself via a micro USB cable to your computer and transfer files directly. Just make sure you place the items into the correct folder (i.e. phots into photos, music into music, and so fourth) so that the device can recognise them.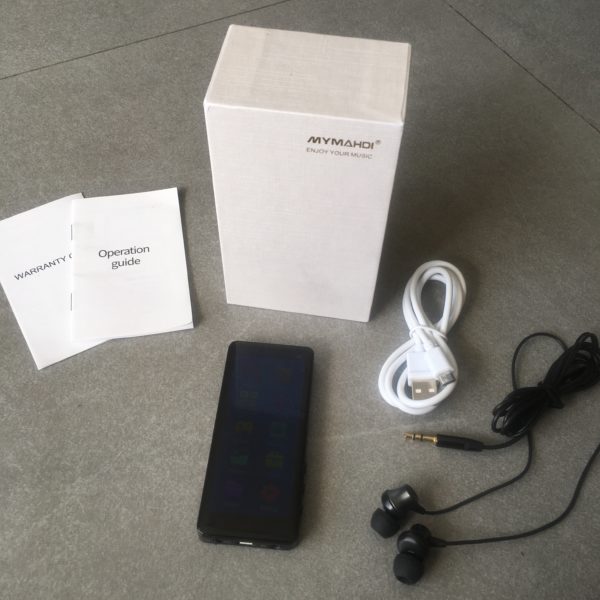 A quick note on the touch screen: while it is touch screen, it can't scroll well. I found that a little confusing at first. It does scroll, but only one full screen at a time. So to get to the bottom part of a list, the whole list shifts upwards a full screen. Everything else is pretty much intuitive, like the volume keys on the side and the wake up button to activate the screen when the device has gone to sleep.
The package includes the M9 Plus device in a woven off-white box that looks like you've found a long-lost gadget in your father's attic, a pair of wired stereo headphones, a micro USC charging cable and a small manual.
While most devices try to be too smart for their own good, this device doesn't want to be. I've enjoyed playing around with its functions and I'm glad I have a regular MP3 player and voice recorder in my possession once again, one that's so small and light, with a decent battery life. I like retro gadgets, and although this one is brand new, it feels like an idea from a decade ago. The whole package feels very cute and has a unique charm. While I'm sure the younger population won't understand this device, retro gadget lovers will adore you forever if you give them the M9 Plus as a gift.
I certainly feel privileged to own one in 2020 and beyond.