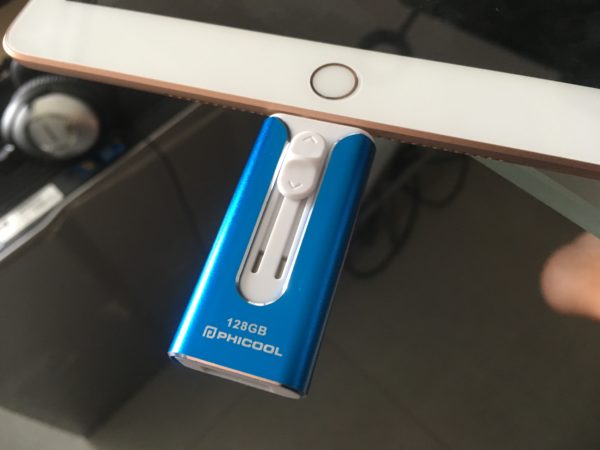 My friend Sven told me about these types of devices that can interchange data with your mobile device and essentially extend storage. He teaches music and has a large sheet music library that does not comfortably fit into his iPad Mini. These things used to be so expensive. I wanted to try one for my own needs and found this Phicool model and thought an additional 128GB would come in handy. I'm glad I tried it.
The device is size of a wide memory stick, about the size of a mini BIC lighter. There's a small slider in the middle of the device: press and slide up to reveal the Apple Lightning port, or a full-sized USB port at the other end. The latter can flip up to reveal a micro USB port. Slide it in the middle and both ports are protected on the inside of the stick. Exchanging data is very easy, I'll talk more about it below.
A bit of background information as to how such devices work in principle: each iOS app can only see their own portion of "disk space" on the mobile device, namely the space they reserve. They can't see the full partition. So App A cannot look at what App B has stored, or vice versa, for security and privacy reasons. In addition, Apps can see data from built-in libraries like Files or Photos, and only when you give express permission to do this. Apps can however send their own data out and offer it to other apps, which is usually accessed using the "share" or "copy to" option.
With that said, this Phicool device and similar contemporaries need their own app installed so that they can receive such requests. For the Phicool, the app is called LUV-Share (don't judge it by its 2-star review, people have the wrong expectations of how things should work sometimes).
An included booklet has a QR code with a link to the app, or you can search for it on the App Store (it's free). Once installed, connect the stick to your iOS device and it will recognise it as attached storage. Now you can copy data from the LUV-Share app to the stick, or vice versa, or send data from other apps directly to the stick, or away from it.
Here's how to do it: To store data from another app on the stick, you must first export it from the source app to LUV-Share, and then transfer it to the stick. For example, open Files or iBooks, pick a file, then choose "Copy To LUV-Share". The latter will open and offer to save the file(s).
The other way round works the same way: open the LUV-Share app, pick the file(s) you'd like to share and choose "Copy To" another app, which in turn should open and process/save/display/whatever your data. It's important to understand that this is the only way Apple will allow developers to exchange data with external devices, this is not a limitation of the Phicool stick.
Here's a quick video demonstration of the whole process:
The LUV-Share app offers to display several types of files, such as photos, videos, PDFs etc without having to open them in another app first. That' very convenient, it's fast, bypasses the iOS memory completely, and it's convenient. Imagine having several several sticks! Some files have a proprietary format and cannot be opened by iOS (or LUV-Share) natively, but they can still be exchanged.
Tip: If you deal with file exchanges on your iOS device a lot, I recommend to get a copy of Goodreader. It can import and export pretty much any file type, it has a built-in web server to make exchanges on your wireless network easier with other (non-Apple) devices, and with the addition of this Phicool stick, you'll never run out of storage again.
I highly recommend this product and I'm glad I finally own one.