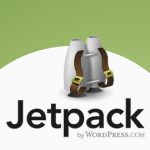 I wrote a new plugin based on code by Matt Medeiro that I've mentioned in a previous article. This is a super quick solution to get rid of any and all Jetpack Nags at the top of your Admin Interface.
I was working on a site that didn't have a Child Theme, so it wasn't easy for me to add that one-liner anywhere. The easiest way was indeed to wrap this up in its own little plugin, so now it's as simple as
downloading the repo from GitHub
uploading the ZIP to the website in question
and activating the plugin
That's it! There are no settings or admin interfaces to deal with. Once activated, those Jetpack messages simply disappear.
Enjoy. Because Less is More 🙂