All my pairs of AirPods, including the 2nd generation Pro's have the annoying habit of cutting out every now and again when connected to my old Mac Mini from 2012. Granted it's an old device, it can only run macOS but it does support 10.15 Catalina, but it has Bluetooth 4 and has proven that it can connect stable for weeks. When that inevitable point of drop outs, interruptions and disconnects happens, there's a built-in fix: resetting the Bluetooth Module on the Mac.
Here's how to do it, no restart is required:
Hold down SHIFT and OPTION, then click on the Bluetooth icon at the top
a top secret menu appears!
select Debug – Reset the Bluetooth Module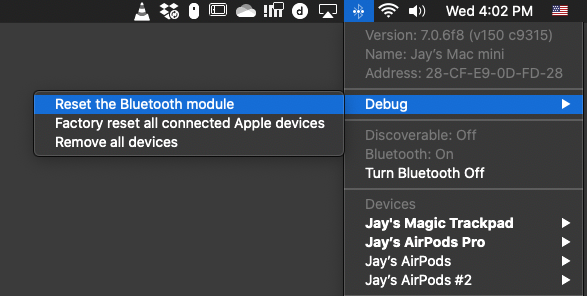 All Bluetooth devices will disconnect temporarily, but they should all auto connect after a few seconds. Should this not be the case, grab a USB mouse so you can restart your Mac if necessary. Moments later, my AirPods are re-connected and can produce drop-out-free sound once more. Hurra!
Another internet mystery has been solved, thanks to Pacific707 for this tip!