Extensions are to Plesk what Plugins are to WordPress. They allow developers to add functionality to the Plesk Panel via PHP, make CSS and JavaScript tweaks and allow a very fine grained amount of customisations.
Creating modifications in isolated files instead of hacking Plesk core files also assures that upgrades won't overwrite any changes you've made (much like the Child Theme philosophy in WordPress).
Here's a quick how-to guide on writing your first extension.
Uploading an existing Extension
Extensions come into Plesk as a ZIP file which you upload under Server Management – Extensions (in the left hand sidebar):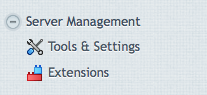 You can get pre-built Extensions in three different ways:
from within Plesk, click on "Products from Parallels Partners"
from the Extensions Repository at http://ext.plesk.com
or create your own
Let's see how to do this next.