In this episode I'm taking a look at two lapel microphones by ZAFFIRO. They're both called "Lavalier Lapel Microphone", and the description is more or less identical on both items – yet there are significant differences between these products.
I bought both of them back in March 2018, and given the sound quality and amount of accessories you get, for less than $20 each, these mics are good bargains for casual users. But no matter how detailed (or vague) their shop descriptions are, and no matter how hip the people in those pictures look, you can only really judge a microphone by what it sounds like.
In this review I'll tell you all that I've learnt in my six months with the ZAFFIRO lapel mics.
Product Differences
To tell these two mics apart, I'll refer to them as "blue" (ASIN B074SF96X9) and "green" versions (ASIN B0765NGK4N). That's because apart from the user guide and physical size, the listing and the packaging is more or less identical. However, the tiny fold-out brochure has the word "User Guide" printed in blue in one version, and in green on the other. I thought that's a good independent differentiation.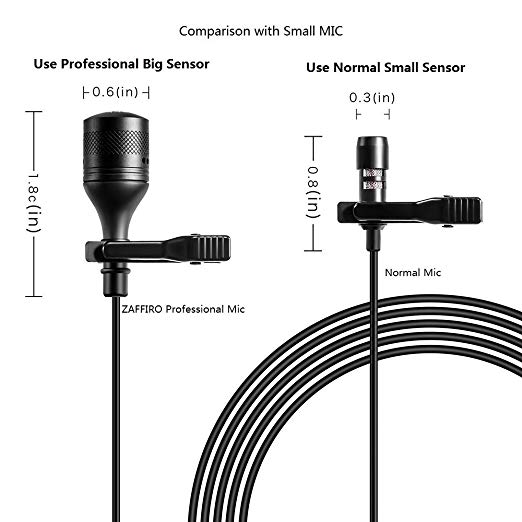 The picture above shows the green version on the right (the bigger one), and the blue version on the left (the smaller one).
Accessories
Both mics come with plenty of accessories, but they differ depending on which version you get. Here's a list of accessories common to both versions. You get:
a nice little bag, which fits each microphone and all accessories
a 6 ft / 2 m gold-plated 3.5 mm TRRS extension with velcro cable tie
a replacement wind shield (black)
a replacement cable clip
a 3.5 mm TRRS to TRS adaptor (for equipment that can't handle TRRS plugs)
a User Guide
In addition, only the blue (smaller) version contains:
a 3.5 mm TRRS to Micro-USB connector (for GoPro cameras), gold-plated
a 3.5 mm TRRS to 6.3 mm TRS adaptor (not gold-plated)
User Guides
As promised in the video, here are pictures of the user guides for each microphone. They don't tell us much, but they look rather nice. Click to enlarge.
Blue Version (the smaller one, ASIN B074SF96X9)
Green Version (the larger one, ASIN B0765NGK4N)
Sound Differences
Take a peek at the above video for a full description and side-by-side comparison (it starts at 16:50). I'm speaking the phrase "the quick grey fox jumps over the lazy dog" over and over, giving a nice impression as to how each microphone sounds like in comparison.
For most of the video I'm using a Blue Yeti microphone, so you also get an impression of what the ZAFFIRO's sound like in comparison to a $150 USB mic.
That phrase by the way is used in typography, because it contains all letters of the alphabet… however I've made a mistake and misremembered it when I recorded the video. The correct phrase should be "the quick BROWN fox jumps over the lazy dog". Just thought I'd mention it 🙂
The major difference – aside from the microphones' characteristics – is that the blue (smaller) version records a good 9 dB hotter than the green (larger) version.
Neither of them distorts in quiet conditions, but in noisier outdoor settings, the blue version may cause distortion when used on mobile devices in the field. I'm saying this because usually, mobile devices do not have an input gain control – unlike computers and mixing desks. I've never had this happen before, but I can see this causing trouble down the line.
Verdict: Which one is better?
It's a tough choice between these two mics. They're both fantastic for the amount of money they cost:
both are under $20
both come with a ton of good accessories
and a nice bag
and they sound very good for the money
But then, so do the super tiny mics that are built-in to Apple's Ear Buds, and the mics built-in to our mobile devices. What such mics can't always deliver is to be close enough to somebody's mouth to pick up good audio. That's where these ZAFFIRO's really shine, and that's what they're made for.
I personally favour the sound of the blue (smaller) version, despite there being the danger of distortion due to higher output levels. I've never had this happened yet mind you, and a bit of extra oomph is great for quieter speakers. I also find that the sound from the blue version is a bit warmer and clearer than that from the green version.
Judge it for yourself, and try listening with different speakers/headphones to get a clearer picture.
Then of course there's the additional accessories to consider that the blue version gives you. That 3.5 mm TRRS to GoPro USB connector alone is worth $10 (sadly my GoPro HERO 4 doesn't accept any audio input via USB, so I couldn't test this adaptor). Note that apparently this thing only works on the HERO 4, HERO 3 and HERO 2. The 2018 HERO, HERO 5 and HERO 6 are not compatible with it – from what I understand.
Even though the sound quality doesn't differ that much, I would keep in mind that the levels both microphones put out do. Therefore, if you're in the market for more than one mic, and want to buy these with the intention of recording multiple people/sources and mix them together, stick with the same model. It'll be easier to mix mics of the same version together (unless you're an audio professional with a proper mixing desk, in which case I doubt that you'd even be looking at these toys).
One final thing to consider is how they look on camera: if you're using these mics while videoing people, the green (larger) ZAFFIRO can look too large on your interviewee, especially on women.
I'd say the blue (smaller) version is a good choice for indoor/studio interviews, while the green (larger) version is good for action and outdoor footage.
Whichever version you decide to buy, have fun with those mics 🙂
Podcast: Download (Duration: 21:14 — 19.5MB)