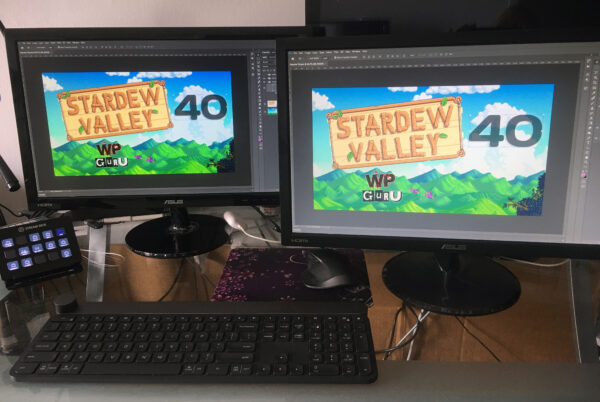 I've been looking for a 22″ monitor to improve my setup, and I came across two ASUS models that both fit my budget nicely. They're both under $100 with very similar features, yet one seemed to be the "newer model" according to Amazon. I was intrigued to know the differences, and dissatisfied with the descriptions, I ordered both! I've compared them side by side for a week and I can finally tell you the exact differences between
I'll let you check out the sale page on the ASUS website on the links above in your own time, chances are that you already know these models if you're reading this. Here are my personal impressions:
Commonalities
Both are very good budget monitors, one is LED, the other is LCD. Naturally there's a difference in each model's display characteristic. They're both available with a variety of input options. My VS228H has HDMI, DVI and VGA, while my VP228 only has HDMI and VGA, however variations exist. Both models are 22″ and come with a stand, but they're also VESA mountable. Both models have an integrated menu that can be accessed on the bottom left hand side, which is as fiddly as any monitor menu is.
Neither of them generate any noticeable amount of heat, they're not even warm to the touch when in operation. Flat screen technology has really come a long way in the last few years. I have a 4 year old ACER monitor that gets relatively warm, and a 6 year old TV that gets downright hot. These ASUS models are running at 21W max, with a built-in power supply and feature regular "kettle cord" inputs.
Either model allows for a variety of colour schemes, brightness and contrast changes, as well as resetting to defaults when necessary. Graphically they look a little different (see screenshots below), but in principle they're doing the same job. Presets include
Scenery
Standard
Theatre
Game Mode
sRGB
and Night View Mode
The VP228 also has Reading Mode and Darkroom Mode in addition that lowers the brightness by. Note that all of these are just presets you can tweak as you see fit with additional controls for contrast, brightness and saturation, so the names become mere placeholders.
Both displays are matte and I guess you could call it "anti glare", which reduces the perceived sharpness a little bit, while avoiding reflections from your desk at the same time. Either coating has its advantages. Included accessories are also identical, namely
monitor and stand (easily assembled by hand, no tools required)
power cable
HDMI cable
paperwork
When attached to the stand, either monitor can be twisted back by about 30 degrees, up to being 100% upright. Let's discuss what's different between these monitors. I have both of these sitting next to an Apple Thunderbolt Display, whose image quality is seriously difficult to beat in regards to contrast and colour accuracy. Almost any monitor looks cheap next to that.
Model 1: ASUS VS228H-P
I'll come right out and say it: I prefer this model over the next one we'll discuss below, simply because the image quality is better for graphic work. It's personal preference of course, and may even be imperceptible to other users. I'm judging this with the default Standard Mode settings, although sRGB is something I also like very much. The other modes are a little over saturated, or the contrast is cranked up too much, but I guess it's personal preference.
I see the blacks as almost black, and reducing the brightness does make the ark parts literally "unilluminated" (which can't be said for every monitor). I see the white parts as as bright whites and colours are reproduced naturally. I can view the display from any angle without noticeable change in colours or contrast, That's a very good first impression.
The VS228H's bezel is glossy black, about 1″ at the bottom and slightly smaller at the top, even smaller on the side. This gives it that slightly "classy" look that the next model doesn't match, having itself a slightly slimmer matte bezel, which looks like cheap plastic. But in a dark office, who cares really? Just thought I'd mention it.
Cables come out straight from the back on this model, so no crazy bending manoeuvrers are necessary to insert the plugs. Here's it's rear view, followed by some pictures I took from the on screen menu (which by default appears in the middle of the screen, but its position can be changed to your preference). Aside from the video inputs, you'll also find a 3.5mm headphone jack that lets you listen to audio from the HDMI input.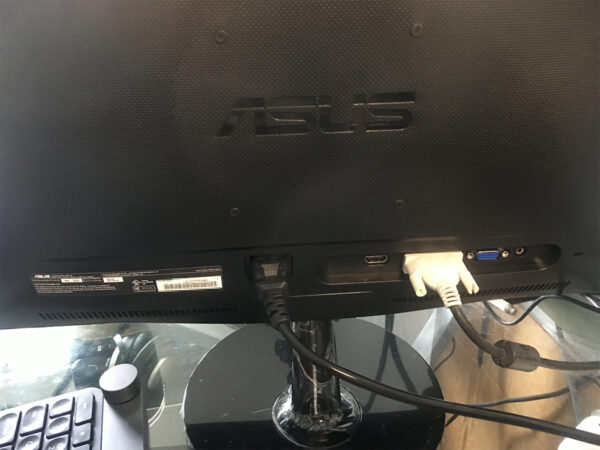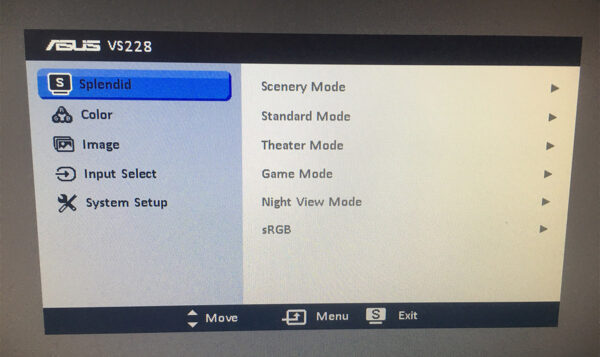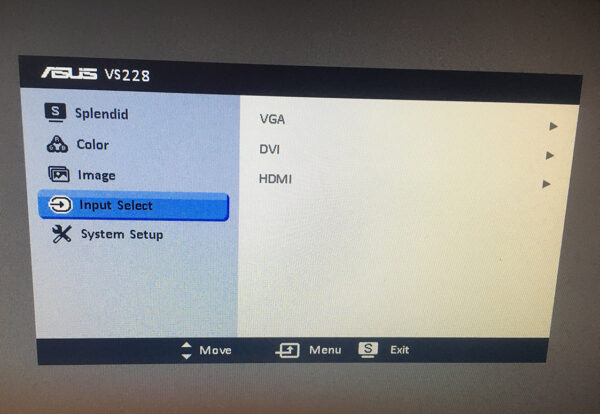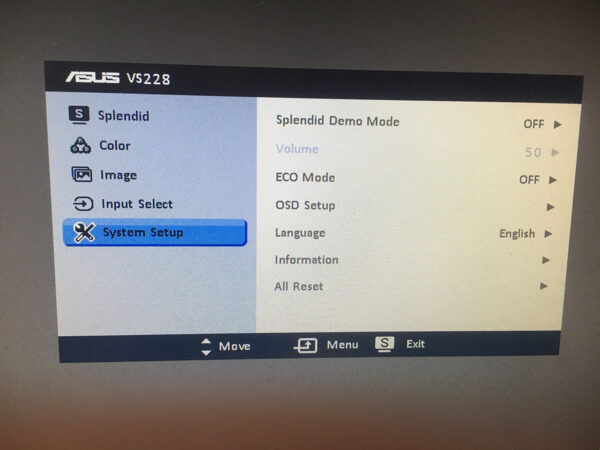 Model 2: ASUS VP228
Don't get me wrong, this is a great monitor for the price, and I'm glad to have this installed in my "other office" (it's my linen cupboard really, but ever since my wife has been working from home, it's difficult for me to record videos when she's working from home with daily meetings). The big differences between this model and the previous one are literally three things:
it has stereo speakers built in (via HDMI or external 3.5mm input)
it has more features in its menu
it has a slightly higher refresh rate (allegedly)
Perhaps we'll talk about the last point first: the refresh rate. While the previous model can display anything up to and including 60 Hz, the VP228 can apparently go up to 75 Hz for a "flicker-free" experience. On the Amazon listing, it's even making claims of being capable of running at 120 Hz, which makes it a target for some criticism… because it ain't true. I've got these monitors hooked up to an RTX 2080 and can get nothing over 60 Hz on either model, although I can choose a somewhat lower refresh rate on the VP228. Interestingly the ASUS site makes no claim of any refresh rates, so if you're thinking of buying either monitor for gaming, know that 60 Hz is all you're going to get.
The VP228's menu is somewhat more filled with features, many which which we're likely never to use directly on a monitor – nevertheless they're there, and I thought I'd point them out to you. We have 5 levels of blue light reduction that can be set regardless of what Windows sends out. We also two customisable shortcut items that are programmable, so when you press any of the menu buttons, your two custom options shows show up right there. This could be brightness and contrast, or blue light filter and colour temperate. You're the boss, whatever you frequently access in the menu can be added two these two spots.
You get two additional scene presets, namely Reading Mode and Darkroom Mode, which is great if your room is not illuminated at all. Often times monitors can still be too bright even on the lowest setting, so this is a nice touch for all those late night hacking or gaming sessions. Speaking of gaming, there's a built-in cross hair option with multiple overlays that can be enabled, so you'll always see the exact middle spot on the screen.
While all these options are a nice touch, in reality you hardly ever fiddle with a monitor. You set it up and do the rest via the operating system – including volume control and blue light filter. Hence, although I prefer the whole menu on this monitor, it's not a sales feature for me. Image quality is really what makes or breaks a monitor, and while indeed very good, the VP228 cannot match the VS228H in regards to colour accuracy and/or contrast (when observed side by side).
Although the viewing angle is said to be the same on the specs page of either model (about 170 degrees), I find myself seeing a lesser contrast on the VP228 when I look at it from other angles, something I just don't with the VS228H. Oh yes, and cables come out towards the bottom, which makes it every so slightly awkward to plug them into the back, although it means you need less room at the back to bring the cables down under your desk. Here are pictures of the back and the menu I was talking about: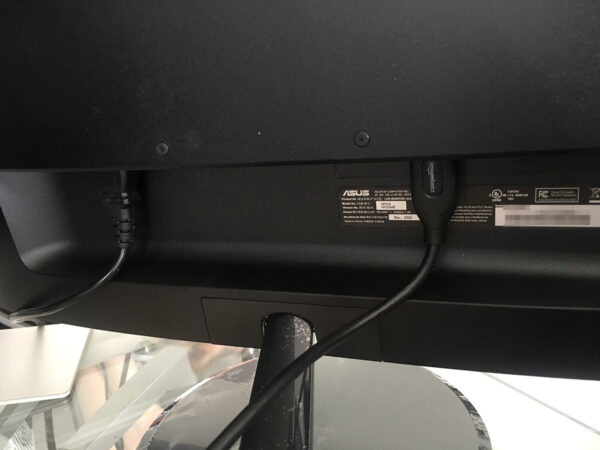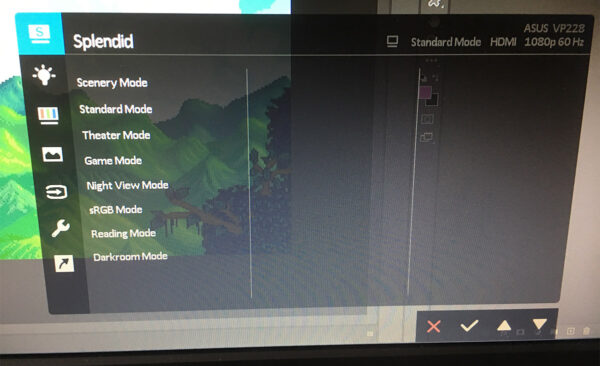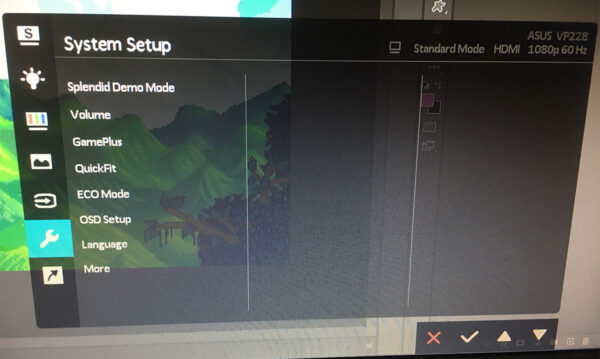 Conclusion
I'm glad I ordered both monitors, and I'm glad I got a chance to investigate the intricacies of modern technology at this price point. While I was looking forward to gaming with a slightly higher frequency, it's not something I'm badly missing at this point. I wanted a slightly smaller, and slightly better monitor for my desk to replace my 27″ Acer I bought 4 years ago, to give my neck a slightly easier time when swinging my head from one monitor to the other. If this came with improved picture quality, it's all a plus (seriously, that Acer was a big disappointment when used in Photoshop).
While I do prefer the look and feel of the VS228H-P at my main desk, the differences to the VP228 are probably only noticeable to me. Both are great for casual gaming, or a multi-monitor setup on a budget. The built-in speakers are a bonus in my "other office", where I'd only have headphones otherwise. For any graphic or 3D users out there who are in the same boat as I was, having to decide for one of these two models, I say this:
there's no improvement in refresh rate over 60 Hz
neither monitor "flickers", so saying one is "flicker free" is like saying "sugar is a fat free food"
the speakers on the VP228 are OK, but don't expect HiFi quality
the image quality (contrast/natural colours) are slightly better on the VS228H-P
the additional menu options on the VP228 seriously don't matter
all that jazz about Eye Care, Splendid Video and Game Plus is sales talk
Both models are very nice for the price, but they're build with different panels, based on different technology and have a different characteristic. I prefer the LED version. If you have any questions, leave a comment below and I'll try my best to answer them.
Further Reading
Here's a list of handy links to both monitors:
ASUS VS228H-P (LED Model)
ASUS VP228 (LCD Model)