After thoroughly enjoying Stray, I thought I'd give Spirit of the North a try. It also features a four-legged little hero, and while it may not be as cute and perfect as Stray, it's a nice relaxing puzzle adventure. Sadly there's no option to disable the Controller Rumble feature. I'm playing with a Luna controller, with which the rumble is unbearably strong (and I admit I dislike it on other controllers too).
Thankfully there's an option to override this feature, at least on the Steam Version of the game. I've not found a configuration file to make this work for other PC versions, but it is possible to disable all controller rumble in the settings menu of your games consoles.
If you have the Steam version like I do, here's how to disable the rumble feature.

head over to your Library and select the game
at the far right, find a little gear icon and click it (Manage – Properties)
select Controller, then Enable Steam Input from the drop down
now click on Controller General Settings, which switches you into that annoying Big Picture mode
select your detected controller from the left, then choose Preferences
disable the Rumble Preference from the drop down menu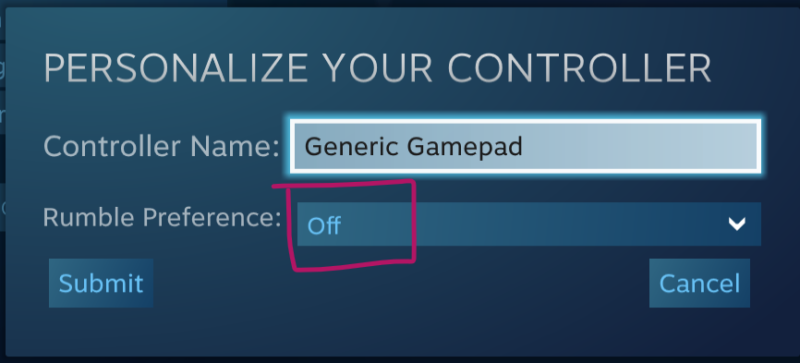 That's it! Start the game without getting annoyed by hand fatigue and go easy on those batteries.
My initial worry with this process was that it would override all game controls with generic Steam controls, like the ones made for games that weren't designed for controllers. Thankfully that's not the case at all: Foxie's movement and barking controls are working great, just without the rumble feature.
Hope this helps!