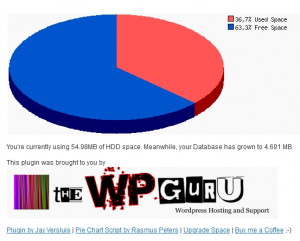 I've committed a new version of Disk Space Pie Chart today.
This maintenance release fixes a display bug in the Dashbaord Widget in WordPress 3.2. Thanks to Dan from IFSA Butler for bringing this to my attention.
While I was at it I've also fixed some of the internal workings of this plugin:
Fixed dashboard widget display in WordPress 3.2 (Thanks Dan!)
Replaced hard coded links with dynamic ones
Updated Folder Structure in accordance with WordPress Best Coding Standards
Added default unit value for first-time-user (now defaults to GB rather than nothing)
Changed Donation Link (Buy me a Coffee now goes to this website)
You can download Version 0.4 from the official WordPress Repository or use the automated upgrade option.
Have fun 😉