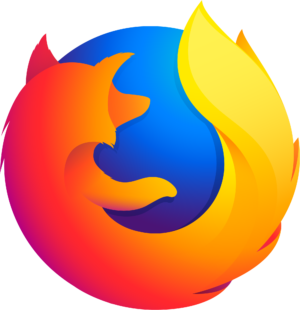 There's a really useful Firefox plugin called the Easy YouTube Video Downloader by Dishita. Here's the direct link on the Firefox Add-Ons Directory. Once installed, it allows you to download MP4 and MP3 versions of any video on YouTube. That's super handy if one my streams is not recorded properly at my end. Let me tell you, it's always good to have a local backup of things!
With the free version we can download MP3 files in 128Kbps and MP4 files in 720p. Higher resolutions are available with the Pro Version, for which you can make a voluntary donation. It'll work immediately after you've made a payment, by clicking a link provided to you via email.
Trouble is, every once in a while (usually after a Firefox update), the Pro Version reverts back to the Free Version, and you're stuck without all your paid for Pro Features. How do we get them back without paying again?
I've just found out – and I thought I'd remind us all how this works.
1.) Don't Panic
My first reaction was panic. That's never good. I had to download something in a rush, and it was super annoying that an obvious reactivation process wasn't jumping out at me. Although I sifted through Dishita's website, clear re-activation instructions were nowhere to be found. A simple button would suffice – instead we get a sales page. Not great. But hey, nobody is perfect – and coders are usually never good documenters (or business people).
My advice: don't panic. It's actually super easy if you know where to look.
2.) Search your Email
The trick to re-activation is by clicking a unique link, namely the one that was sent to you when you first made your donation. You should have received two emails: one as a "receipt" of sorts by the payment processor (PayPal et al), and one directly from the developer.
Search your email for the string "videodroid", that should bring it up. Mine was entitled PRO Account Activation Instructions.
In this email you'll receive a transaction code and two links, the first one is marked important. Click it in the Firefox browser you're trying to re-activate. Here's what my email looks like (without the arrow mind you, that's just the link you need to click):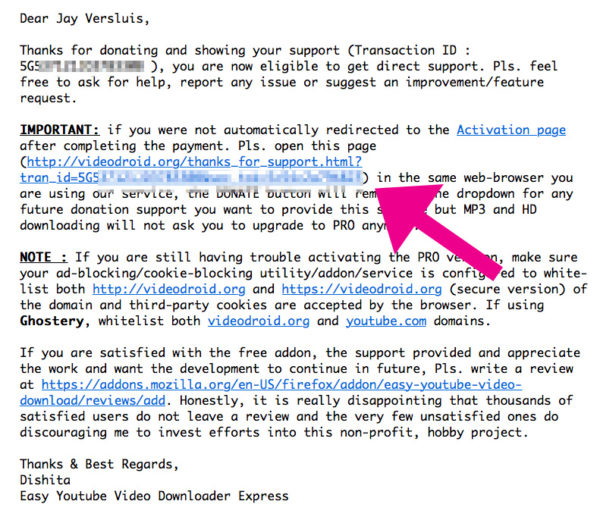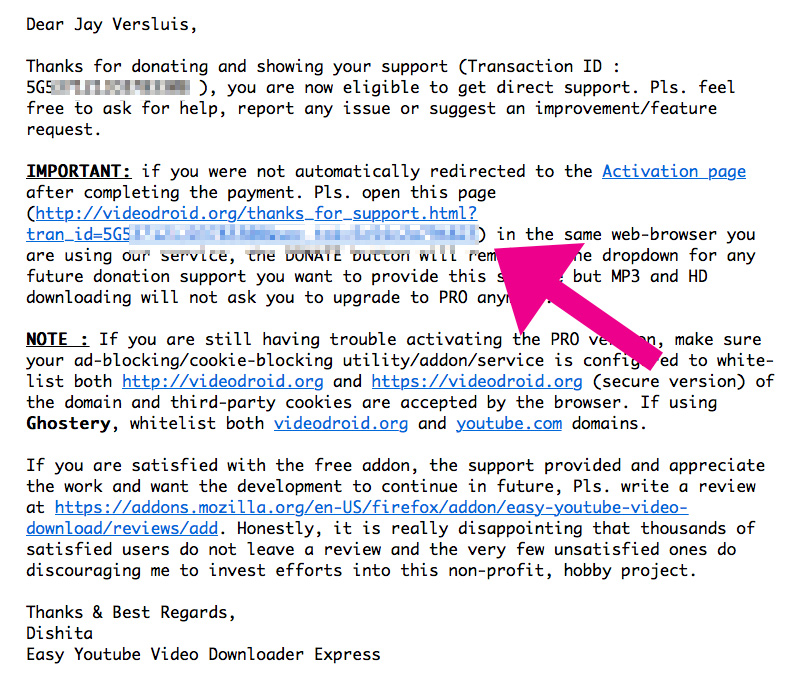 From what I understand, the link contains a unique code that's tied to your payment. There's no serial number or user/password combination, which is what I had assumed. Clicking the above link will work with multiple instances of Firefox (say a desktop and a laptop), so you don't have to pay twice. However if you want to support Dishita, you can do so by pressing the donation button as often as you like.
3.) If all else fails
I'm not the developer, nor am I affiliated with Dihita or the add-on. I'm just a regular user who thought these instructions will come in handy (probably when I forget how to do this next month).
If the above doesn't work for you, or you've lost that super important email, you can get in touch with the developer of this plugin via his website yourvideofile.org. He'll be able to send you this email again (I assume), but give him a day or two to respond to your request.
4.) Save that link
I was look to have discovered that super vital all-important link in my email, but as a note to us all, let's save it somewhere else. Like your mega important sticky note, or a password protected whatchamacallit. You WILL need this link again, sooner than you want to know. Firefox pushes out updates all the time, and your devices may vary too, so you'll end up in a situation without PRO features.
Why I cannot tell you – but I've been there. Many many times. I hope this quick article helps you get those features back.
Happy Downloading!