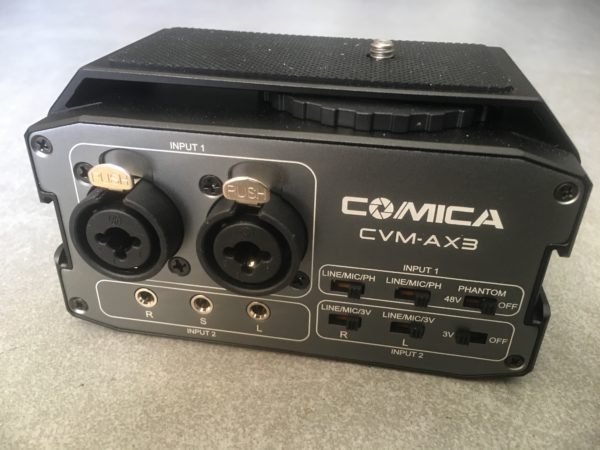 I've been looking for a way to record two separate microphones in the field for interviews. If you've ever tired this, you know how much of a challenge this can present. When I found this Comica CVM-AX3 I thought it could be the ideal solution to this problem and gave it a try. I'm glad I did, because it fills the void of the challenge I had before me.
The device accepts two types of inputs: professional XLR and consumer class 3.5mm jacks. Sources can be mixed, so you can use one of each if you like. On the front panel we find the relevant inputs, as well as small switches that let us choose what type of input is being used: we can choose "line-in" (without amplification), "mic" (with standard mic pre-amplification), as well as "phantom power", providing either 3V to the 3.5mm jack, or 48V to the XLR jack respectively.
The back of the unit features the output side that lets us adjust the volume for each input, and lets us pan which mic should go to which channel. This means we can either do a pre-mix of both inputs on site, either in mono or with stereo panning, or we can record both channels as completely separate tracks. That's very versatile, depending on what you'd like to record in any given situation.
An included curly 3.5mm male to male TRS cable is included, with which you can connect the output of the CVM-AX3 to your camera's input. In addition you can attach regular stereo headphones so that audio can be monitored while it's being recorded (note: you need a TRS headphone jack, TRRS does not work). 
The design of this box is quite unique in that it can attach to a regular tripod mount at the bottom, while providing another screw at the top, to which we can mount our camera. Regular DSLRs will work fine, and I guess that's what the unit was designed to take at the top. I'm using iPhones and GoPros, so they look a little lost on top of it, but work fine nonetheless. The unit also features two additional cold shoe mounts on either side for anything from lights to boom microphones.
The Comica CVM-AX3 is powered by a 9V block battery, the one commonly used in fire alarms and wireless studio mic packs. Order one before using this unit, it won't work without one. There's a power switch at the back, showing either green or yellow to show how much juice is left in the battery.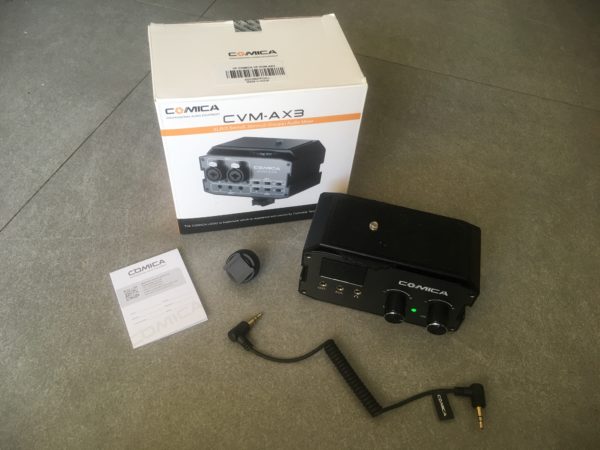 I really like this unit, and it fills a gap only professional audio engineers once had. In this video production age we live in, we need more products like this. My only gripe with the CVM-AX3 are the cheap switches: they make a terrible noise when changed from one position to another, and if you're monitoring this on site it sounds frightening. Perhaps with use it'll get better (I'll let you know).
I'm very happy with this purchase and recommend this unit to anyone who needs to record more than one microphone in the field, no matter which camera you use.