Did you know there was an easy way to record your gameplay footage from an Apple TV? If you have a Mac on the same WiFi network, it's a piece of cake – I had no idea this was possible. Open the QuickTime Player on macOS and follow these steps:
head over to File – New Movie Recording
next to the little red recording dot, pick your Apple TV as camera and microphone
pick a quality type at the bottom of the window
click record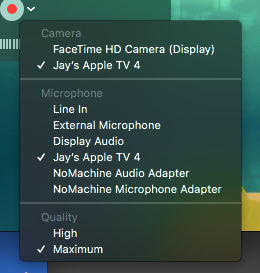 When you're done, stop the recording and save your file. You can also choose to transcode it into another format using the Export option (but there's better tools for that, avoid if you intend to edit your footage). On maximum quality the footage looks excellent and requires very little system resources. You can record as much as your hard disk can stomach.
Quicktime uses a temporary directory while recording, then copies the file to your location when you save. Just in case you're wondering where that magic temporary location is or if it can be changed, check out this thread on StackOverflow (exact location depends on the macOS version).
That's it! Now Julia and I can work out new ways to find Snowmen in A Monster's Expedition and review solutions when they happen (the ones we can't remember the next day). Hurra!