We've recently installed DS4 Windows on Julia's PC so that she could play Fortnite with her PS4 controller. The moment we did this Windows started complaining that ms-gaming overlay link needs to have some app installed, with a link to the Windows Store that never completed installing an app we didn't want in the first place. Before it got to the end, some error code pops up and the whole charade starts again. It got boring extremely fast!
Turns out there's an easy way to disable the whole thing, even without installing anything. What Windows is trying to say is this: "Hey I understand there's a game controller attached, and Windows has these amazing options you can use, but I need an app for that". For the Xbox controller, a feature called the Game Bar can be brought up – but for those of us who don't need it, we also don't need a drier or app that generates a shortcut. What we'll do therefore is disable the Game Bar setting altogether, making Windows (and humans) happy.
Here's how to do that:
search Windows for Xbox at the bottom left
an option appears in the list under Settings called enable Xbox Game Bar, select it
disable the Game Bar with the flick switch
That's it! The pesky ms-gaming overlay popup will never bother you again. Note that it is vitally important to only search for the word Xbox, not the whole game bar phrase. I'm sure there's other ways to get to this setting, but if you search for "Xbox game bar" it wont' come up. Here's a screenshot: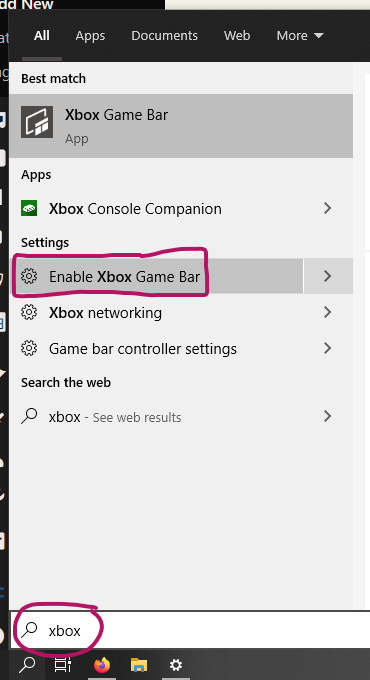 And here's the flick switch you need to disable: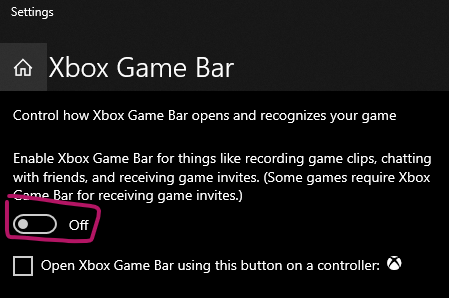 Happy gaming!