It shocks me every time how abysmally slow the transfer speed is that I get on my PlayStation 4 consoles. 6GB of footage shouldn't take 20 minutes in this day and age, yet by default it does – even and especially given the fact that the PS4 has USB 3 ports. Using a compatible USB 3 drive should yield insanely faster results – but of course that's not the case.
Turns out we have to format our drive in exFAT rather than FAT32, and I freely admit that I have no idea what that makes a difference. Weirdly enough, that's not the end of the story.
Further speed increases can be gained by increasing the allocated block size when formatting the drive. Here's how to format a drive in Windows with those settings:
open Windows Explorer and find your drive
right-click on it and select Format…
choose exFAT File Format
choose 2048 kB under Allocation unit size (default is 32 kB; higher values are not recommended)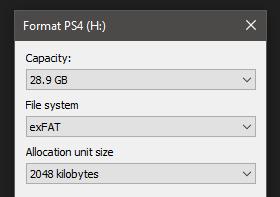 That's it!
Thanks to everyone's tips in this Reddit Thread for these crucial bits of information.