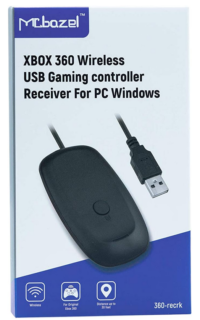 My original Microsoft wireless Xbox 360 receiver for Windows packed up, after over 15 years of loyal service. Perhaps I shouldn't have let him be plugged in 24/7 on a powered hub, or perhaps his number was up. These dongles are no longer in production, but several third party devices are available. I've decided to buy a McBazel device for $30 from Amazon in the hopes that it would breathe more life into my two Xbox 360 controllers.
I had hoped it was a plug-in replacement for the old device, but sadly Windows didn't recognise it automatically when I plugged it in. Although the green light came on, I could not pair the controller with it. Thankfully there's a little "driver trick" that makes this thing work both on Windows 10 and 11, but it's entirely un-obvious how to do this without instructions (that were of course not included).
Here's what we have to do:
open Device Manager
find the "Unknown Device" (that's your new dongle)
select Update Driver
now select a driver from your hard drive (we actually have it pre-installed, it's just not picking it automatically)
pick Xbox 360 Wireless Peripherals
select Xbox 360 Wireless Controller
Boom! Now we can pair our controllers by pressing the button on the dongle until it flashes, then hold the small pairing button on the controller and the two (as well as Windows) will get on just fine.
Other third part dongles I've seen ship with a driver disk that makes this process a little more intuitive, but since "installing drivers" is so yesterday, I thought I'd pass this tip along. Hope this helps someone out there who's into Retro Gaming.