Yesterday I had to transcode some audio files recorded with Quicktime on macOS. Quicktime works great for that, but it only stores files in its native AIFC file format. That's the Audio Interchange File Format, a format developed by Apple in 1988, storing audio data as uncompressed PCM data.
Sadly though, AIFC is not commonly readable by many applications, and as such the data needs to be transcoded to be used successfully elsewhere. And Quicktime offers that option too, simply by choosing File – Export – Audio Only. This will create an MPEG 4 audio file with the M4A extension.
While that file sounds fine, and its size is only a fraction of what the original AIFC file was, this transcoding process does not allow us to choose which compression algorithm to use upon export. As it turns out, Quicktime introduces a very good, albeit lossy compression when it exports files in this manner.
I wondered if there was a way to extract uncompressed lossless data from the AIFC file, and how to do it. If Quicktime didn't let me, perhaps there was another way, maybe using some kind of free software tool.
I was glad to find out that I didn't have to look far: my good friend the Finder has such an option built in! Thanks go to Jim Tanous for sharing his knowledge with us.
All we have to do is open a Finder window, right-click the AIFC file in question, and select Encode Selected Files at the bottom of the context menu. We can even select multiple files and transcode them all at once.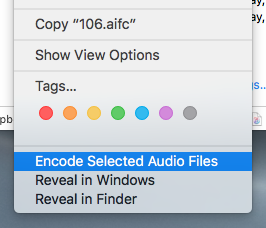 When we do that, a dialogue window comes up. This may take a moment or two, so don't get nervous if your Mac doesn't respond instantly to this request (like I did).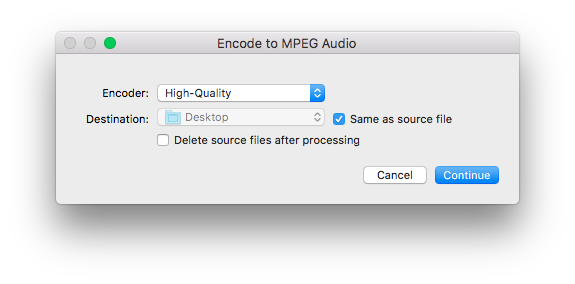 Now we get options! We can pick  destination for our new files, and we even get the choice to delete the original AIFC file if we so desire (and if we're confident enough about this workflow's capabilities).
The best option we get though is that we can pick how the file(s) are to be transcoded though. While we do not get these options during the Quicktime export process, which appears to use the "High Quality" setting (and probably the same tool under the hood), with Finder we can choose the Apple Lossless codec.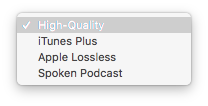 From what I understand, all three options apply a lossy AAC compression in varying degrees, resulting in different file sizes, data rates and of course different levels of quality. The only one that stands out is the Apple Lossless setting, which creates a file still smaller than the AIFC file, but with lossless compression, in M4A format.
The resulting M4A output is readable by a wide range of applications.
Thanks, Finder! I didn't know you did Audio Encoding so well 🙂