In this article I'll show you how to disable auto updates in GOG Galaxy and show you how to downgrade to an older version of this game. A little background on why I wanted to do this first though:
Like many other gamers, I've been plagued with a bug that's inherent to Cyberpunk 2077: crashes in various reproducible places in the game. Leaving the bar in Street Kid, or sitting down in the Corpo Chair. This is caused by a compiler setting they've used that assumes all CPUs understand the AVX 512 instruction set. My Xeon x5675 CPUs are too old for that.
Thankfully there's a patch that skips those instructions, which works great for Version 1.03 of the game. At the time of writing there was no update for Version 1.04 yet, however GOG Galaxy took it upon itself to auto update my game. This means my patch no longer works. Not cool!
Lucky for us, GOG Galaxy allows us to go back to previous versions of the game and also disable auto updates in the process. Take a look at this icon right next to the purple Play button. Select it and choose Configure.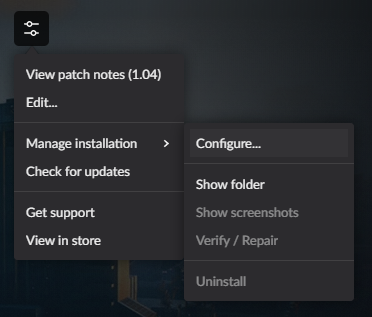 Here we can find a tick-box reading Automatically update to newest version. Let's disable that. Underneath that there's an option to select which version we want to run.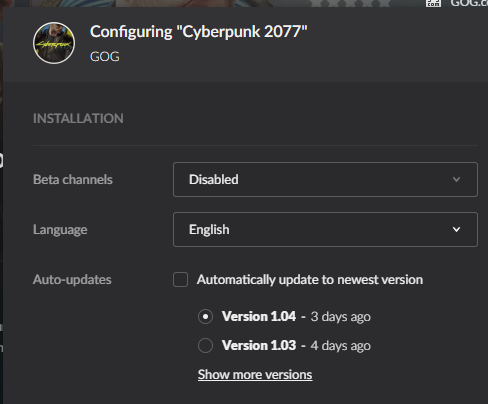 If you want to go back one or several versions, you can do so. Note that the whole installer may have to be downloaded for this, so you may be in for a bit of wait time.
Thankfully there was a 1.04 patch very soon after I started writing this article, so I could run the latest version after all. But in case you ever feel the need to downgrade a game on GOG Galaxy, this is how you do it.