I'm a Firefox user, have been for years. Updates are happening hard and fast, and as such sometimes – and I guess inevitably – things stop working they way they used to before an update. Did I mention I genuinely and passionately HATE updates? Well one such update recently meant that Firefox no longer opens on the Desktop (space) that I'm on, but 8 spaces over. It never did that before, but now it doesn't do anything but. Major annoying. Zero explanation as to why that happens. It just does. It's a "feature" that doesn't make me smile.
Of course I'm on a terribly outdated operating system (High Sierra) and haven't done a re-install in several years, so it's probably all my fault anyway. Be that as it may, I found a quick and dirty fix to get less annoyed when using FIrefox on my outdated Mac:
Right-click the Firefox icon on the Task Bar, then pick Options – This Desktop. From now on, Firefox will launch only on whatever space you're on, automatically switching you there no matter which space you're on.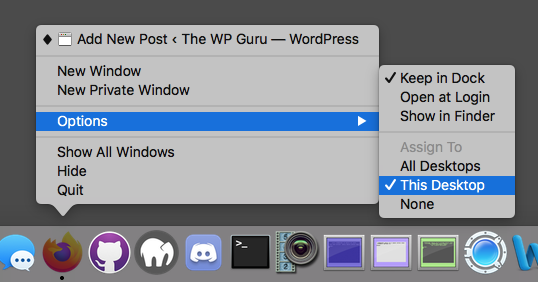 You can also use All Desktops, which is that super anyone option where the Firefox window appears on ever desktop. Some old Adobe apps used to drive me nuts with that behaviour.
There we have it! Not an ideal situation, but at least it's less annoying than it was before.