I currently have an issue with literally all browsers on all my computers, for reasons that make no sense whatsoever. In desperation I tried the last option I could think of, which was Microsoft Edge. I'm still shocked that it's currently my only option to watch YouTube streams. But hey, I'm grateful that at least one browser works, until I can fix all the others.
Not knowing much about Edge, I thought the first thing I'll do is to switch it over to Dark Mode. That wasn't easy, and other articles suggest there's a frequent re-shuffle of options happening. What worked this week was the following:
head over to Settings (a menu on the three little dots icon at the top right)
then Appearance
at the very top there's an option to Customise the Browser

It's not a drop down anymore, as the official Microsoft Support Article suggests. Instead you'll have the option to "browse the Edge store", an overcomplicated ridiculous repository of seemingly millions of themes. It's the same thing that annoys me about Chrome and Firefox. Either way, it's the only option so let's click on it.
None of the suggestions in the "featured" section have a dark mode of course, so we'll have to search for one. At the very top there's a search field, let's type "dark theme" and see what comes up.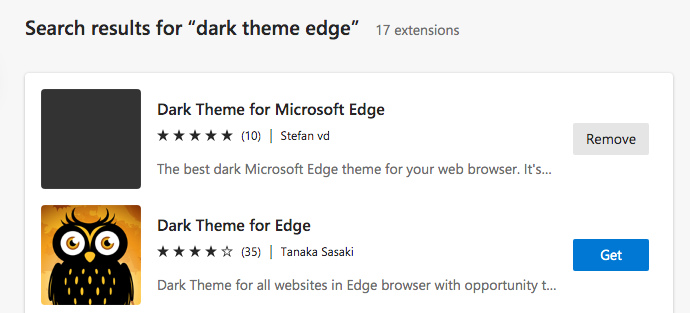 I found one that's called Dark Theme for Microsoft Edge by Stefan vd. It seems to do the trick. Add it and your browser will now look stylishly dark, without resorting to pitch black, like so many themes do.