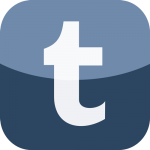 I've been recently using Tumblr more to post sketches from all kinds of devices, and naturally I wanted to embed them in some of my websites' sidebars.
I found the extremely helpful Tumblr Widget plugin by Gabriel Roth for this: install, drag in the widget add Tumblr URL. Done!
I wanted my images to be in a size that the widget didn't offer, so I did some tweaking – perhaps it'll help if you're in a similar situation.
Continue reading How to style the Tumblr Widget Sidebar Plugin →