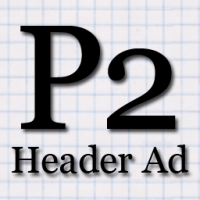 I always loved Automattic's P2 theme: it's one of the most innovative ideas for blogging I could find. I'm using it on several of my notebook websites, including this one. I've been tweaking P2 for quite some time, and one thing I wanted to do is display an advert inside the P2 header.
As you may know, P2 doesn't like child themes very much, so I wrote a future proof solution as this handy plugin.
P2 Header Ad let's you display an advert of your choice inside the header. And when the theme is updated, your advert stays in place. Neat, huh?